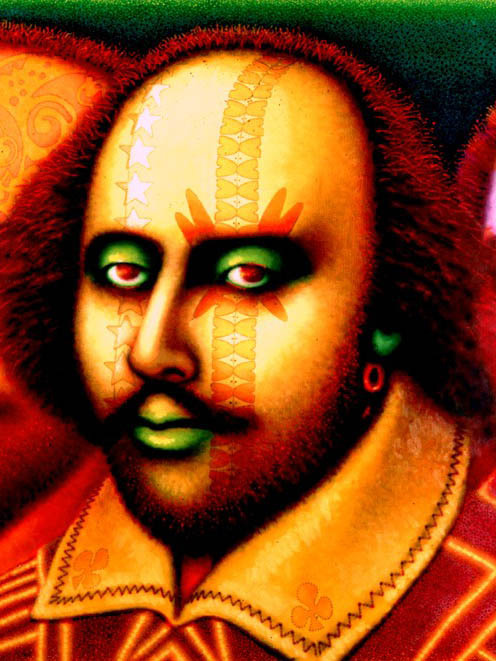 Are you having a good weekend?
Well just in case you need something to read here's the next interview from authors contributing to the Not Quite Shakespeare anthology from Dreamspinner Press, that will be published in June just in time for the UK Meet. I am very much looking forward to getting a copy and have decided to buy two, one of which I am offering here as a giveaway. Comment below or to any or the other interviews for your name to go in the hat.
My guest today is Jules Jones. Hi Jules.
Have you always lived in the UK? If not what drew you back?
I've lived in several different countries, and long-time readers will probably remember that I was living in the US when I sold my first few novels. But I'm originally from the UK, and currently living in northern England.
Is there any place that is a must-see for any visitor to the UK?
Too many for any one visitor to see, and of course it depends on what you like to look at. My current local favourite is the Museum of Science and Industry in Manchester, because I like steam engines and early computers, and so do a lot of my visitors. 🙂
In how many counties have you lived? Cosmopolitan or rural?
Four so far. Always in a town or city, although usually with the countryside within easy distance. For several years I lived right in the middle of a conurbation, but with a view of the North Yorkshire Moors.
What inspired you to write your story for the anthology?
It's actually a story I wrote some years ago, and never found a suitable home for until now. It came from a remark on a tv show years ago about missing toast badly enough to grow the wheat to make the bread. My lead character doesn't go quite that far, but he does like making bread from scratch.
Could you tell me a little about it?
What better way to get to know a shy new flatmate than offering to share freshly baked bread? And all that dough kneading leads to nice strong hands, which is useful if you also know how to give a good massage.
Could you please tell me about your other work?
Most of my commercially published fiction is m/m romance, and a lot of it's cross-genre science fiction and fantasy. I wandered in from the sf&f side of cross-genre, which is why my "which authors are you influenced by" list includes writers like Andre Norton and Lois McMaster Bujold. But I also write a fair bit of contemporary romance, including my recently released novel "Nice Tie". The contemporary romance is all set in the UK, as is some of the cross-genre romance. My silkie novel Spindrift is set on the west coast of Scotland, and my shapeshifter novel Dolphin Dreams is set on the Purbeck coast in Dorset. And for science fiction, there's First Footer, which is a first contact story set in England. (Never park your spaceship on a peat bog…) The rest of the cross-genre is basically Brits In Space. (No, not Brits In Spaaaaace. Except for The Syndicate.) You can find my full bibliography on my website, along with a lot of excerpts and some free reads.
What are you working on at the moment?
Two very different pieces. One's a very gentle contemporary short story idea I got from the submission call for the Dreamspinner anthology "Random Acts of Kindness". The other is a contemporary office romance with caning on one side, bondage on the other, and in-house fraud to investigate for both of them. That one will probably be heading in the direction of my editor at Loose Id once it's finished. And every so often I poke at my urban fantasy novel.

Please could we have an excerpt?
My story in the anthology is fairly short, so not really suitable for an excerpt. Instead, have an excerpt from the WIP. Alas, you'll have to wait a while before this one's out. 🙂 The guys have just met for the first time, in the bar of the hotel they both happen to be staying in.
~~~
They'd been quiet enough to be discreet, but Chris could understand why Jason might want to leave anything more detailed than "we're having sex" to somewhere more private than the corridor. Only when they were inside, with the door safely shut behind them, did he ask, "Just vanilla, or something more?" He looked around the suite. It didn't run to a four-poster bed, but there were other possibilities. "There's always the dressing gown belt for impromptu bondage."

Jason laughed softly. "You're a sweet-looking young thing, but I'm still not letting a complete stranger tie me up in an anonymous hotel room. Besides, it's not my kink."

"So what is?"

"I'm old enough to have been educated at an expensive fee-paid school, at a time when one of the things parents were paying their fees for was firm discipline in the shape of corporal punishment."

Chris was speechless for a few seconds. Not at the idea that Jason liked being caned, but at why. Then he decided that it was none of his damned business. "Okay. Not sure how practical that is at short notice." He looked around the room. "Unless you carry something with you on the off-chance?"

"No." Jason crossed his arms and looked at him. "Not when I was planning to have a quiet drink and then go to bed early." Then he grinned. "Though I'm rather regretting it now. You're game for it, and it's not even really your thing, is it?"
~~~
Jules Jones is a materials scientist with a degree in maths and physics, and as such should really be writing hard sf. The output is in fact more along the lines of political sf, erotica and romance, often all at the same time. The longer examples are mostly published by Loose Id; short stories have appeared in a variety of venues. You can find Jules online at her website, blog, Twitter, Library Thing and Goodreads or you can email her at jules.jones@gmail.com!