My guest today is one of my favourite writers in this multifaceted genre and also, coincidentally, one of my favourite people 😀
Chris Quinton is here today to tell us about her book Love in Three Moves and to answer some questions about her writing process.
Welcome Chris.
Can you tell me a little about yourself? For instance, do you have to have a day job as well as being a writer?
I don't have a day job, which should give me plenty of time to write. Of course, it doesn't work out that way – I have back problems which mean I can't sit at a keyboard for long. I'm also a sloooow writer, which doesn't help.
When you aren't writing, is there any other creative activity you enjoy? Have you ever written about it?
I like to quilt, and to knit, though the latter is only an ongoing supply of fingerless mitts [totally idiot-proof to make]. Back when I was more mobile, I was a 15th century re-enactor, which I loved. I got to spin, embroider, and dance. I have a few ideas to use a re-enacting scenario, but they are too vague to be even a plot bunny for now.
What are you reading? Can you recommend something that you wished you'd written yourself?
Oh, Gods, the list of wish-I'd-written-it books is far too long! Let's go with anything by CJ Cherryh for SFR and Fantasy, Lindsey Davis for Historical, Dorothy L Sayers for Mystery. On the reading front, I'm rereading CJ Cherryh's Foreigner series for the umpteenth time. IMO she is right at the top of the list of the best SF writers of all time.
In that crucial inspiration stage of a new story which comes first? Plot, situation or character?
Situation and characters first, then the plot grows organically. But with pruning and training as required. I often have to backtrack and add in elements that occur to me as I'm going along – the definitive description of a Pantster…
Do your characters arrive fully fledged and ready to fly or do they develop as you work with them? Do you have a crisp mental picture of them or are they more a thought and a feeling than an image?
I usually have a pretty clear image of them and what makes them tick. Odd quirks might appear as the story grows.
What are you working on at the moment? Can you discuss it or do you prefer to keep it a secret until it's finished.
At the moment I'm working on Interface, an SF story set in a distant part of the galaxy…
Could we please have an excerpt of something?
Here's a short piece from Love In Three Moves, three short stories charting the ups and downs in a love affair… This is from the first one, It Takes Two:
"It's me," David Grainger called as he opened the front door and walked into the large studio apartment. "Are you back? Babs has been nagging me again. Did you get the Stravinsky commis – ?" He stopped in his tracks. Yes, Ben was back from Geneva. The room looked like Selfridges at the end of a sale day. Cushions, bedcovers, pillows and odd items of clothing lay scattered over floor and furniture, and the warm air was heavy with an exotic, expensive perfume. But over all hung the scent of sex.

Who was it this time? David wondered, irritated. Roger, Melanie, or both? Not that he gave a damn who Ben took to his bed. No, he was peeved because he'd heard nothing from the man for several days. Phone calls and texts had all been ignored, and Barbara wasn't the only one pissed off about it. Important matters hung on the success of Ben's trip to Switzerland. Sometimes the man was an irresponsible pain in David's arse.

Fastidious as a cat, he picked his way across the room, nose wrinkling as the assorted aromas assaulted his nostrils, and David thanked whichever gods looked after dissolute idiots that the used condoms had ended up in the waste bin and not on the floor.

Ben, the other half of Grainger & Tremayne Antiques, enjoyed a varied love life. Ten years of friendship, five of which included a highly successful working partnership, meant they'd shared keys long ago and had free range of each other's homes in the same Canary Wharf up-market apartment block. It wouldn't be the first time David had strolled in at the wrong moment. He was bisexual himself, but his own exploits in the relationship arena were a lot less adventurous. Or numerous.

"Ben? Are you still alive?"
###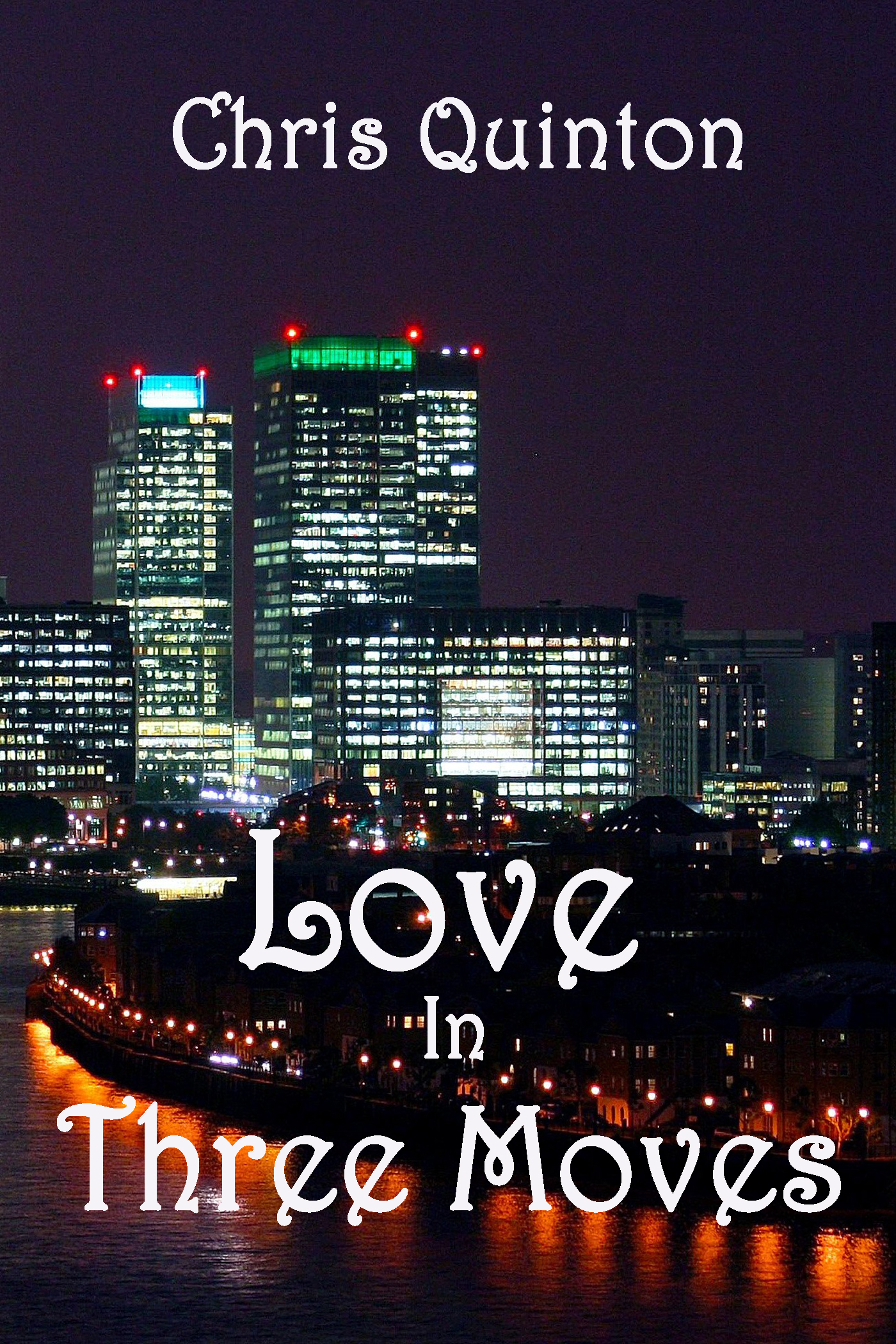 Buy Links
Amazon https://www.amazon.com/dp/B06XTBV4KB
Smashwords https://www.smashwords.com/books/view/713621
Kobo https://www.kobo.com/gb/en/ebook/love-in-three-moves
BLURB
Love in Three Moves – Three short stories chart a passionate love affair: yet true love rarely runs smoothly.
It Takes Two
David Grainger and Ben Tremayne are perfect partners in business and friendship – and finally they give in to the temptation of taking that further. Their passionate love has been brewing for a long time, and everything about their new affair is wonderful – until it isn't.
Breaking Point
Ben hasn't seen his ex-lover David, for a year. He lives alone with his remorse for breaking up their affair, overwhelmed by his fear of commitment rather than his love for David. When, out of the blue, David asks him for a favour, Ben grudgingly agrees. The simple errand takes a complicated turn.
Clue Game
Once instrumental in reuniting Ben and David, their friend Barbara Curtis now needs the couple's help with her own love-life. Despite being in Paris on their pre-honeymoon, Ben and David are caught up in the ensuing puzzle, involving a Paris art gallery, the works of Shakespeare, a devious crossword, a pair of precious earrings – and satisfaction for Barbara's heart.
Chris Quinton – a Bio
Chris started creating stories not long after she mastered joined-up writing, somewhat to the bemusement of her parents and her English teachers. But she received plenty of encouragement. Her dad gave her an already old Everest typewriter when she was ten, and it was probably the best gift she'd ever received – until the inventions of the home-computer and the worldwide web.
Chris's reading and writing interests range from historical, mystery, and paranormal, to science-fiction and fantasy, writing mostly in the Gay genre. She also writes the occasional mainstream novel in the name of Chris Power. She refuses to be pigeon-holed and intends to uphold the long and honourable tradition of the Eccentric Brit to the best of her ability. In her spare time [hah!] she reads, or listens to audio books while quilting or knitting. Over the years she has been a stable lad [briefly] in a local racing stable and stud, a part-time and unpaid amateur archaeologist, a civilian administrator at her local police station, and a 15th century re-enactor.
She lives in a small and ancient city not far from Stonehenge in the south-west of the United Kingdom, and shares her usually chaotic home with her extended family, three dogs, a Frilled Dragon [lizard], sundry goldfish and tropicals.
Her blog/website is: http://chrisquinton.com
Her Facebook is https://www.facebook.com/chris.quinton.1