Sometimes it's really worth checking out backlists. There are some marvellous books out there but with hundreds of new titles every week it can be very hard to find them.
Authors – have you got a title a year or more old that could do with a little love?
Readers – have you got a favourite book that you think deserves some attention?
Message or email me and we'll set something up.

~~~~~~~~~~~~~~~~~~~~~~~~~~~~~~~~~~~~~~~~~~~~~~~~~~~~
My guest today is Meredith Russell and I'm featuring her book Saving Mr Fox.
This is a sweet story of love and redemption set in a small town where two young men who used to be sweethearts are reunited. If that's not enticement enough it also has some rather hot scenes just to put the icing and cherry on the cake.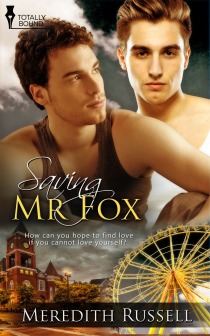 Blurb:
How can you hope to find love if you cannot love yourself?

Eric Fox is an actor faced with his most difficult role yet—being himself. Seven years ago, on the way to his high school prom, an accident drove him from the arms of his young love, CJ. Eric ran away to LA, and CJ was left to pick up the pieces of his broken heart and broken life.

Guilt and regret has eaten away at Eric since that day, leading him to turn to the darker side of celebrity—to sex and alcohol. On a downward spiral and after a series of bad choices, Eric makes the difficult decision to return home. But returning home and having to spend two weeks with the man he left behind could be an obstacle Eric is nowhere near ready to face.

Can Eric find the strength to ask for CJ's forgiveness? And more importantly, can he find the courage to forgive himself?
~~~~~~~~~~~~~~~~~~~~~~~~~~~~~~~~~~~~~~~~~~~~~~~~~~~~
About Meredith
Meredith Russell lives in the heart of England. An avid fan of many story genres, she enjoys nothing less than a happy ending. She believes in heroes and romance and strives to reflect this in her writing. Sharing her imagination and passion for stories and characters is a dream Meredith is excited to turn into reality.
Website/blog: http://www.meredithrussell.co.uk
Facebook: http://www.facebook.com/meredithrussellauthor
Twitter: https://twitter.com/MeredithRAuthor
Instagram: http://instagram.com/miss_meredith_r
Email: meredithrussell666@gmail.com
~~~~~~~~~~~~~~~~~~~~~~~~~~~~~~~~~~~~~~~~~~~~~~~~~~~~
I asked Meredith for a recommendation and this is what she said:
I'd like to recommend Theory Unproven by Lillian Francis. I must have read the story three times now. It's one I come back to, a kind of comfort book I guess, and one of those stories that just lingers around at the back of your mind, but in a good way, like a welcome, warm memory. The story is set against the beautiful but sometimes harsh backdrop of South Africa. I love the picture the author paints for the reader and it makes for a vibrant romance. Oh, and there are also elephants and I love elephants, and particularly these elephants who definitely make for wonderful supporting characters. Theory Unproven is a great read.
~~~~~~~~~~~~~~~~~~~~~~~~~~~~~~~~~~~~~~~~~~~~~~~~~~~~