It occurred to me earlier this week that I haven't done one of these for a while. The thing that jogged my memory is that the long awaited second book of a series is just out and I thought it might be nice to give some love to the series as a whole.
It's called Melusine's Cats and it's by Chris Quinton.
I think we are all familiar with romances that features fuzzy animals, or babies or cutie poo toddlers, as a bonding device to bring the protagonists together. Well you don't get much of that here. 😀 The cats are well rounded characters with their own agenda and can go from cute and fuzzy to OMG are we in the Pleistocene in the blink of an eye.
This is just as well, as the books are set in a place where our own familiar modern world intersects with something older and far more dangerous. Melusine of the series title is an ancient power in the Celtic pantheon, defeated in battle and bound to the river through a small village in Devon. After centuries of impotence the chains upon her have loosened enough for her to start building a power base again and her first step is to acquire some triads, fighting units made from two pair-bonded warriors plus an enormous animal familiar. Her first choice are Will, the highly respected village policeman and incomer Jesse Adams, a rugby player punished with suspension after being found guilty in an assault case, who are brought together by Greymalkin.
Part crime drama, part otherworldly adventure, this book sets the scene perfectly, describing the village and nearby port town and introducing characters, both human and cat, to look out for in future volumes.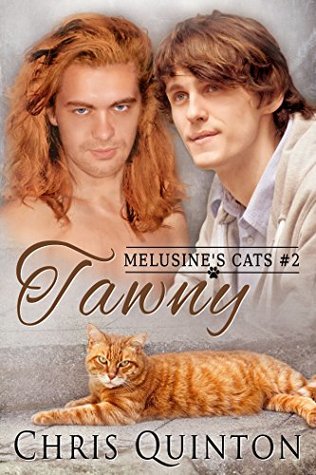 Book two, which released on Monday, is Tawny.
Here barman Hal fears for his sanity when he begins to hear voices – or rather one specific voice. Also the pub cat, an enormous ginger tom, is looking at him funny. Then a red headed stranger in need of help arrives and Hal is swept up into a terrific adventure that spans this and the other world. Gryffydd is wholly of the other world, a dedicated enemy of Melusine and is determined to defeat her once and for all. Cue a struggle of wills between Hal, Gryffydd and Tawny with a lot more at stake than the two young men's hearts. I particularly enjoyed a better look at the world inhabited by Melusine and her peers and the additional information on how the whole state of affairs came about. Seeing a conflict from a different point of view is always enlightening.
Very satisfying as a series, these books are also well rounded off. Each has its own complete story arc within the larger plot. Reading them in order is an advantage but I think that if you picked up Tawny first by accident you would still enjoy it, and go and get Greymalkin. I'm happily trying to guess which of the human characters will pair off in the next book and which of the many cats mentioned with get the starring role.
Highly recommended.