Here we are again with another interview from an author contributing to the Not Quite Shakespeare anthology from Dreamspinner Press. Don't forget to comment because I plan to buy two copies and will give one away to a lucky commenter.
My guest today is a favourite author so my welcome is tinged with a bit of fangirliness 🙂 Hi Chris Quinton, how are you doing?
Have you always lived in the UK? If not what drew you back?
Well, apart from a year in Aden when I was really young – was four when I came home – and a couple of years in South Wales in the mid 1960's, I've always lived in England.
Is there any place that is a must-see for any visitor to the UK?
OMG, so many! In my home county alone there's Stonehenge, Avebury, Wilton House, Salisbury Cathedral, Stourhead House with its wonderful gardens, and that's off the top of my head without thinking about it. There's so much packed into this collection of islands, whether you're a history/archaeology fan or a lover of grand houses and their gardens. Then there's the wonderfully varied coastline, the lakes and forests.
In how many counties have you lived? Cosmopolitan or rural?
Born and bred in Salisbury, Wiltshire. When I was first married, we lived for a couple of years close to Cwmbran in Monmouthshire, South Wales, then for about six months we were in Botley, Hampshire before moving back to Salisbury – where I've been ever since. Although Salisbury is a city, it's no bigger than a small market town – but its history spans about three thousand years, give or take *g*. I'd class it as rural living rather than cosmopolitan. Half an hour's walk and you're among fields. It's lovely here…
What inspired you to write your story for the anthology?
Well, we were walking the dogs, and my daughter in law was chatting about a friend and her rescue greyhounds, and what characters they were. I wanted to write something quintessentially English, and greyhound racing fitted the bill. Then the title popped into my head – In The Dog House. I mulled it over a bit, and Jerry appeared and started talking about his trials and tribulations, and his old crush. So I basically took notes and ended up with just under 10K of 1st person narration.

Could you tell me a little about it?
Jerry Thorne is looking after a racing greyhound for his uncle, and is in hiding from men out to drug Spot, aka Edie's Lightning, before a big race. Mike Brown is an ex-crush [unreciprocated] who moved away and joined the Avon & Somerset Police. Jerry had a huge crush on Mike from his early teens. The one time he acted on it and kissed him, Mike rebuffed him, saying he wasn't gay. Soon after he left the area and Jerry didn't see him for years. Uncle George tells Jerry to stay away while he negotiates with the crooks, and Jerry ends up on Mike's doorstep…
Could you please tell me about your other work?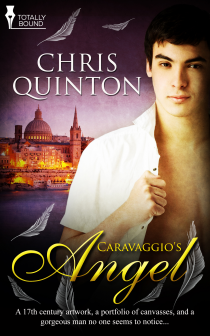 I've just had Caravaggio's Angel published by Totally Bound – it's a contempory paranormal set on the island of Malta – https://www.totallybound.com/caravaggios-angel. Also, having had a handful of titles revert to me from the currently rather troubled Silver Publishing, I've reedited them, found new covers and self-published them. Details can be found on my website http://chrisquinton.com …
What are you working on at the moment?
Oh, goodness. My Work in Progress folder is stupidly long. Well, I'm co-writing Heat with RJ Scott, co-writing Against the Tide with Terri Beckett, working on Melusine's Cats #1 Greymalkin, and I have edits to do on Undercover Blues for Manifold Press. Those are at the top of the list. Below them are at least half a dozen stories waiting to be worked on, all with titles and some with covers ready for self-publishing.
Please could we have an excerpt?
With pleasure *g*. Here's a short clip from In The Dog House…
I pulled over at the first lay-by I saw, and after I'd let Spot out to stretch his legs and we'd taken it in turns to pee against the same tree, I got out my mobile phone, and was shocked to see it was gone ten o'clock. First I called Uncle George, to let him know where we were and that we'd lost our tail. He had news as well. Pete Mullins, Joe's dad, had paid him a visit, told him he had two choices.
"Two? That was generous. Not. Is one option the same his thug of a son gave me?"
"Yup. Spot has to compete. But I sell him to them—for a sodding fiver, no less—and keep my mouth shut, or else."
"What? The bastards! They can't have him, Uncle!" Then caution set in. "Or else, what?"
"He didn't say, but it doesn't matter. You keep our Spot safe, you hear me? I'm taking him out of the race first thing in the morning."
"But they want him to run," I protested. "You're taking a hell of a risk! You're not going to give him to them, are you?"
"Don't be daft! Of course not! Just lie low with him for a while—and keep your mouth shut! I think I can get us out of this as long as we don't involve anyone else."
"Meaning the police?"
"Exactly. I've got a plan," he continued with a confidence I didn't feel. "I saw it on a TV cop show and it'll work for us. Just lay low and leave this to me."
~~~ Chris Quinton ~ Writing Romance … Where Men Fall In Love With Men ~~~
My website is here http://chrisquinton.com/
and I'm on FaceBook here https://www.facebook.com/profile.php?id=100000894893197
Here is my Amazon Author Page https://www.amazon.com/author/chrisquinton